Benefits of Dental Implants – Peabody, MA
Invest in a Successful Solution for Tooth Loss
Dental implants in Peabody are unique because they go a step further to replace more than just the crown of a tooth. Instead, they replicate the entire structure. An implant post is surgically placed into your jawbone to mimic the root of your tooth. As a result, they produce a variety of benefits that aren't achievable using traditional dental prosthetics.
High Success Rate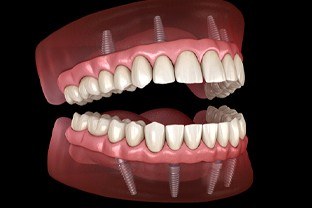 Dental implants have over a 95% 10-year success rate. Research shows they can last for several decades with the right aftercare, like maintaining your oral hygiene and visiting your dentist in Peabody regularly. You should never need to worry about having your implant posts replaced to enjoy a long-term treatment.
Feels Natural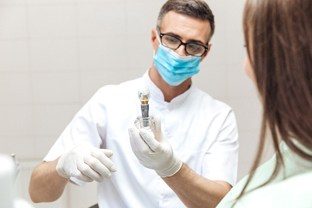 Your jawbone fuses to your implant posts to provide a stable foundation for your restoration. You can regain as much as 70% of your natural biting force to enjoy your favorite foods. You will never need to worry about any slipping or irritation. You can smile, speak, and chew with confidence.
Looks Natural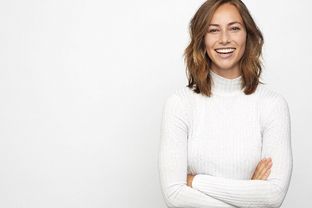 No one will know your dental implants are not your real teeth. Your restorations are carefully crafted to mimic the exact appearance of your natural teeth, including their size, shape, and color. We use high-quality materials to ensure they look and feel as natural as possible.
Preserves Your Jawbone
With the implant posts acting as new tooth roots, they stimulate your jaw to encourage new bone growth. This process is called osseointegration. This not only allows your dental implants to stay in place forever, but it also provides your facial tissues with support to prevent premature wrinkling and sagging skin.
Improves Your Oral Health
Preserving your bone density provides any remaining teeth with the support they need to stay in place. In fact, you can stop dental drift to prevent your teeth from moving out of position. This reduces your risk of tooth decay, gum disease, and even additional tooth loss. Not to mention, you won't need to permanently alter healthy teeth to hold your restorations in place.
Cost-Effective
Although dental implants are more expensive upfront than traditional treatments, they are more affordable long-term. Dental implants can last for a lifetime if you care for your new smile daily. As a result, you save money down the road because you won't need to have them replaced. They also lower your overall dental costs by stopping many common complications associated with tooth loss.
Schedule an Appointment Today!
If you're ready to discover the benefits of dental implants for yourself, Dr. Saati can help. Contact our office today to schedule your consultation for a complete smile. We look forward to restoring your confidence and your quality of life.