Dental Implant Supported Tooth Replacement in Peabody, MA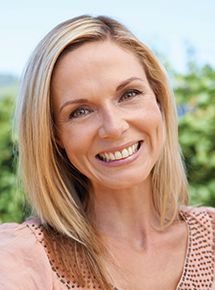 Many patients think of dental implants as being a "new" procedure, and they often express surprise when they hear dentists have been safely and successfully performing this tooth replacement procedure for decades. Dental implants are small posts strategically placed below the gum line to replace missing tooth roots, and the first known dental implant was made from a precious stone and found in the smile of mummified ancient Etruscan. While dental implants aren't new, the innovative methods and materials used today make them significantly safer and more comfortable for our patients. The process is two-fold: placement and restoration. While many dentists refer patients to other practices for the dental implant placement process, at Spiro Saati, DMD we're happy to offer the full dental implant placement and restoration process in one convenient Peabody, MA location. Skilled specialist, Dr. Josephine Pandolfo, offers her years of dental implant expertise and training to our patients for maximum convenience.
Should I Choose Dental Implants?
Like any dental treatment, implants are not right for every single patient, but with a 95% or higher success rate in recent years, they are increasingly popular. As long as patients are healthy enough for minor medical procedures, they are typically healthy enough for implants. We may encourage patients with immune compromising illnesses and those who use tobacco products to choose alternative replacement methods.
How Does the Dental Implant Process Work?
The dental implant process takes several months, and is typically completed in two phases with a period of healing between.
Phase 1 – This is the surgical placement of dental implants below the gum line. The surgery itself varies in length depending on the number and position of implant posts, but it is fairly straightforward. A small incision is made in the gum tissue and a titanium rod is implanted into the gums.
Healing – Following the surgical placement, patients should plan for anywhere between one and six months of healing depending on the extent of tooth loss. During this time, gum tissue and supportive alveolar bone bond to the implant post closely mimicking tooth roots.
Phase 2 – Once the implant is securely bonded with the jaw, patients return so we can attach a dental restoration. Implants are extremely versatile and can be used to replace a single tooth or full arch. The restoration appointment allows us to attach your dental prosthetic and make any final adjustments for a picture perfect smile.
Benefits of Dental Implants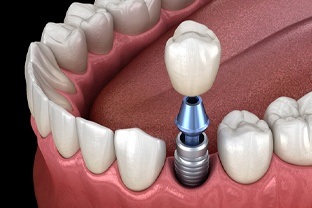 Dental implants are the only treatment to replace the entire tooth structure, including the root. As a result, they offer exceptional benefits when compared to other tooth replacement options. Besides a highly predictable success rate, they actually improve your oral health because they preserve your jawbone's density. Overall, you will gain several advantages that aren't possible using any other treatment.