Dental Implant Supported Tooth Replacement in Peabody, MA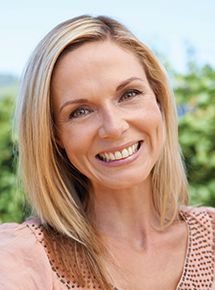 Many patients think of dental implants as being a "new" procedure, and they often express surprise when they hear dentists have been safely and successfully performing this tooth replacement procedure for decades. Dental implants are small posts strategically placed below the gum line to replace missing tooth roots, and the first known dental implant was made from a precious stone and found in the smile of mummified ancient Etruscan. While dental implants aren't new, the innovative methods and materials used today make them significantly safer and more comfortable for our patients. The process is two-fold: placement and restoration. While many dentists refer patients to other practices for the dental implant placement process, at Spiro Saati, DMD we're happy to offer the full dental implant placement and restoration process in one convenient Peabody, MA location. Skilled specialist, Dr. Josephine Pandolfo, offers her years of dental implant expertise and training to our patients for maximum convenience.
Should I Choose Dental Implants?
Like any dental treatment, implants are not right for every single patient, but with a 95% or higher success rate in recent years, they are increasingly popular. As long as patients are healthy enough for minor medical procedures, they are typically healthy enough for implants. We may encourage patients with immune compromising illnesses and those who use tobacco products to choose alternative replacement methods.
How Does the Dental Implant Process Work?
The dental implant process takes several months, and is typically completed in two phases with a period of healing between.
Phase 1 – This is the surgical placement of dental implants below the gum line. The surgery itself varies in length depending on the number and position of implant posts, but it is fairly straightforward. A small incision is made in the gum tissue and a titanium rod is implanted into the gums.
Healing – Following the surgical placement, patients should plan for anywhere between one and six months of healing depending on the extent of tooth loss. During this time, gum tissue and supportive alveolar bone bond to the implant post closely mimicking tooth roots.
Phase 2 – Once the implant is securely bonded with the jaw, patients return so we can attach a dental restoration. Implants are extremely versatile and can be used to replace a single tooth or full arch. The restoration appointment allows us to attach your dental prosthetic and make any final adjustments for a picture perfect smile.
Benefits of Dental Implants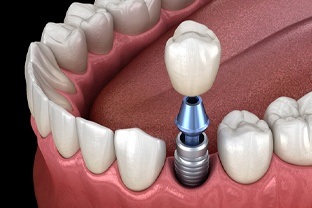 Dental implants are the only treatment to replace the entire tooth structure, including the root. As a result, they offer exceptional benefits when compared to other tooth replacement options. Besides a highly predictable success rate, they actually improve your oral health because they preserve your jawbone's density. Overall, you will gain several advantages that aren't possible using any other treatment.
Learn More About The Benefits of Dental Implants
Dental Implant FAQs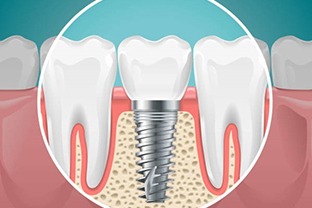 Dental implants in Peabody are an excellent choice to treat tooth loss. No matter if you're missing 1 tooth, multiple teeth, or an entire arch, you can enjoy a close replica of your natural smile. Although you're excited to fill the empty spaces, we know you have several questions. We'll explain the process and address your concerns during your initial consultation to ease any apprehensions. While you wait, here are the answers to a few of the most common questions we hear to help you make the best choice for your smile.
How is a dental implant different from other options?
Traditional dental prosthetics only replace the portions of the teeth visible above the gum line. While this restores a complete and functional smile, there are still several disadvantages, like bone loss and a limited biting force. Dental implants resolve the common complaints of traditional treatments because they recreate the entire structure of the tooth, including the root.
A titanium implant post is surgically placed into the jawbone to act as a new root. An abutment is connected to the post to attach your custom-made restoration. With the post replacing the root, you'll enjoy a variety of benefits not possible with traditional treatments, like a stronger jawbone.
Are dental implants painful?
You'll need oral surgery to insert the post into your jawbone, so it's normal to be worried about any pain. There's nothing to fear because sedation or anesthesia are used during your placement surgery to ensure your comfort. You might experience some tenderness and swelling while you heal, but you can manage it with an over-the-counter pain reliever and cold compresses. After your mouth has fully healed, you shouldn't have any pain. If you develop discomfort, it's essential you call our office right away to address the cause of the problem.
Can dental implants fail?
Dental implants are the most reliable solution to treat tooth loss. In fact, they are proven to last for decades with the right aftercare. Unfortunately, dental implants can fail, but it is rare. The risk of implant failure is less than 5%. You can ensure your new smile thrives by maintaining your oral hygiene at home and visiting your dentist at least twice a year for a cleaning and checkup. If you develop any concerning symptoms, like pain, redness, or the implant feeling loose, don't wait to contact our office. Prompt treatment can prevent dental implant failure.
Can I use my dental insurance to pay for the treatment?
Many dental insurance companies will cover a portion of the cost, but you'll need to review your individual policy. After paying your premiums and your deductible, your benefits can be used to lower the cost of certain steps in your treatment until you reach your annual limit, like the restorations. We'll work on your behalf with your insurance company to maximize your policy to reduce the amount you need to pay out-of-pocket. We offer several payment options for any remaining balance, like CareCredit. We will help you find the solutions you need to keep your new smile affordable.