Dental Implants – Peabody, MA
A Successful Long-Term Solution for Tooth Loss
Many patients think of dental implants as being a "new" procedure, and they often express surprise when they hear dentists have been safely and successfully performing this tooth replacement procedure for decades. Dental implants are small posts strategically placed below the gum line to replace missing tooth roots, and the first known dental implant was made from a precious stone and found in the smile of mummified ancient Etruscan. While dental implants aren't new, the innovative methods and materials used today make them significantly safer and more comfortable for our patients. The process is two-fold: placement and restoration. While many dentists refer patients to other practices for the dental implant placement process, at Spiro Saati, DMD we're happy to offer the full dental implant placement and restoration process in one convenient Peabody, MA location. Skilled specialist, Dr. Josephine Pandolfo, offers her years of dental implant expertise and training to our patients for maximum convenience.
In terms of replacing missing teeth, no other treatment comes close to dental implants. As the only option that replaces the entire structure of a tooth from the root up through the crown, dental implants in Peabody are able to mimic your natural teeth in almost every way. Once placed, no one should be able to tell the difference! Plus, they can last for decades longer than traditional dentures and bridges can. Dr. Spiro Saati can complete every step of the dental implant process right here in our familiar dental office, making the treatment easy for you. To learn more about this successful long-term solution for tooth loss, please call us today!
Why Choose Spiro Saati, DMD for Dental Implants?
Start-to-Finish Dental Implant Treatment Completed Under One Roof
Experienced Dentist with Advanced Training in Periodontology
Ridge Augmentation to Restore Jawbone Health
What Are Dental Implants?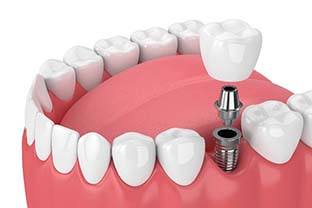 A dental implant itself is a small titanium post that functions as the root of a new replacement tooth. The post is surgically inserted into the jawbone, where it naturally integrates with the surrounding tissues to create a foundation as strong as the original tooth's roots. Then, a dental crown, bridge, or denture is placed on top of the implant post to recreate the appearance of your missing teeth. By bringing back every single part of a lost tooth, dental implants are by far the most realistic answer to tooth loss in terms of how they look, feel, and function. They enable you to smile with confidence and eat all of your favorite foods with ease.
The 4-Step Dental Implant Process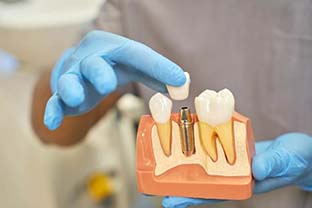 Dental implants involve a more extensive process compared to traditional restorations like bridges and dentures. After all, it's the only tooth replacement option that's designed to rebuild missing pearly whites from the roots up. Although the treatment for getting dental implants usually takes several months to a year to complete, it's a relatively short time to wait for an effective solution that can last a lifetime. Our team will provide you with a more specific timeline for your procedure during your consultation. Until then, read along to learn more about how dental implants work in Peabody.
Initial Dental Implant Consultation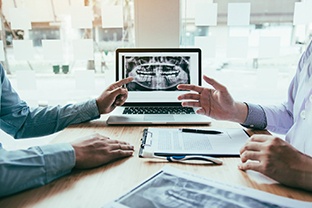 Our team will first need to determine if dental implants are the best solution for you. Fortunately, most healthy adults who are missing one or more teeth may be eligible for this restoration treatment. That said, oral health issues like tooth decay, gum disease, and insufficient jawbone mass can pose a risk to the success of your implants. For this reason, we'll be sure to evaluate your mouth and address any developing issues we might detect before they become bigger problems. Once you're in good health and your jawbone density is adequate, we'll be able to walk you through the details of your treatment plan, including the length of the process and the overall costs.
Dental Implant Surgery
Following your initial consultation, we'll book you for your oral surgery at a later date. While many dentists will send you to another location to undergo your implant placement procedure, Dr. Saati can perform the complete process all under one roof. Not only will this keep you from having to travel across town, but you'll also be able to continue your personalized treatment with someone you know and trust.
We'll first completely numb your mouth with a local anesthetic so that you remain as comfortable as possible throughout your procedure. Dr. Saati will create a small incision in your gums for every implant you're receiving. This will provide him access to your jawbone, where he'll carefully place the metal post in the planned location. After placing your dental implants, he'll suture your gums and place a protective cap atop the post before allowing you to go home and rest.
Dental Implant Osseointegration & Abutment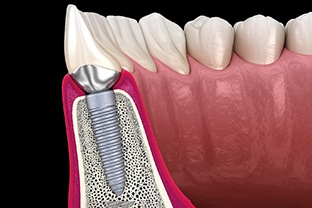 For dental implants to work, they'll have to undergo a specific process known as osseointegration. This is when the posts completely bond with the jawbone, forming a lifelike and long-lasting foundation for your new teeth. Though this varies from patient to patient, the process can usually take about four to six months to finish.
Once you've fully healed and osseointegration is completed, you'll return to our office to receive your abutments. This will involve removing the caps, exposing your implants, and attaching small connector pieces to them. We'll then take impressions of your smile and begin constructing your custom restorations while your gums recover over the following weeks.
Delivery of Dental Implant Restoration(s)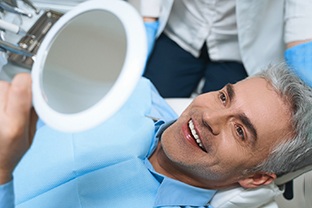 Once your gums are healed and accustomed to the connector pieces, you'll come back for your final stage of the dental implant process. Dr. Saati will anchor your new crown, bridge, partial, or denture atop your metal posts, ensuring they fit properly and that you're satisfied with the results. We'll also be happy to answer any questions you might have as well as provide specific instructions on how to maintain your pearly whites. Then we'll send you on your way so you can show off and enjoy your brand-new smile!
Benefits of Dental Implants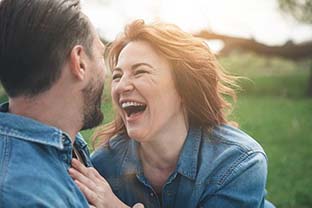 Dental implants are the only treatment to replace the entire tooth structure, including the root. As a result, they offer exceptional benefits when compared to other tooth replacement options. Besides a highly predictable success rate, they actually improve your oral health because they preserve your jawbone's density. Overall, you will gain several advantages that aren't possible using any other treatment.
High Success Rate
Dental implants have a more than 95% 10-year success rate. Research shows they can last for several decades with the right aftercare, like maintaining your oral hygiene and visiting your dental implant dentist in Peabody regularly. You should never need to worry about having your implant posts replaced to enjoy a long-term treatment.
Feels Natural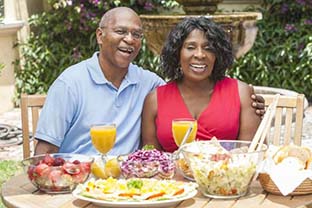 Your jawbone fuses to your implant posts to provide a stable foundation for your restoration. You can regain as much as 70% of your natural biting force to enjoy your favorite foods. You will never need to worry about any slipping or irritation. You can smile, speak, and chew with confidence.
Looks Natural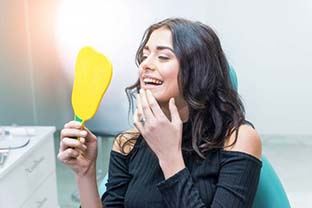 No one will know your dental implants are not your real teeth. Your restorations are carefully crafted to mimic the exact appearance of your natural teeth, including their size, shape, and color. We use high-quality materials to ensure they look and feel as natural as possible.
Preserves Your Jawbone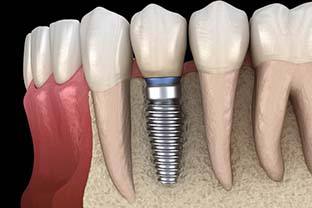 With the implant posts acting as new tooth roots, they stimulate your jaw to encourage new bone growth. This process is called osseointegration. This not only allows your dental implants to stay in place forever, but it also provides your facial tissues with support to prevent premature wrinkling and sagging skin.
Improves Your Oral Health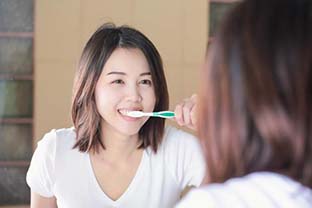 Preserving your bone density provides any remaining teeth with the support they need to stay in place. In fact, you can stop dental drift to prevent your teeth from moving out of position. This reduces your risk of tooth decay, gum disease, and even additional tooth loss. Not to mention, you won't need to permanently alter healthy teeth to hold your restorations in place.
Cost-Effective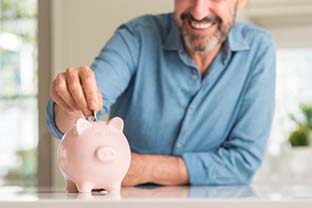 Although dental implants are more expensive upfront than traditional treatments, they are more affordable long-term. Dental implants can last for a lifetime if you care for your new smile daily. As a result, you save money down the road because you won't need to have them replaced. They also lower your overall dental costs by stopping many common complications associated with tooth loss.
Who Dental Implants Can Help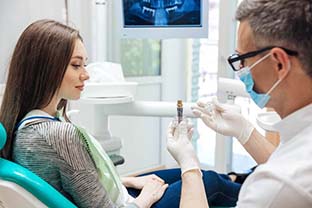 Like any dental treatment, dental implants are not right for every single patient, but with a 95% or higher success rate in recent years, they are becoming increasingly popular. They can also replace any number of lost teeth, making them the most versatile enough by far. If Dr. Saati decides that you're a good candidate for dental implants, he'll create a treatment plan uniquely made to meet your needs.
Missing One Tooth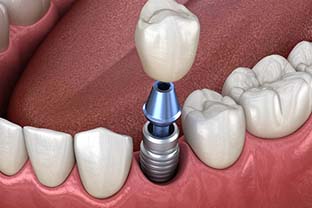 Instead of filing down two of your natural teeth to support a dental bridge, Dr. Saati can simply place a single dental implant post in the gap and top it with a personalized crown. That way, you get a replacement tooth that looks and feels lifelike without compromising the structure of your remaining teeth.
Missing Multiple Teeth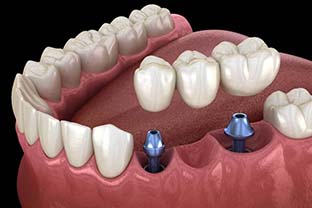 Our team can replace three or more consecutive missing teeth using only two dental implants. All we need to do is place one post at either end of the space and anchor a dental bridge into place. This solution combines the natural appearance of a bridge with the sturdiness and self-reliance of implants.
Missing All Teeth
Patients who have lost all of their teeth on their top and/or bottom arch can also benefit from dental implants. By positioning four to six implants at specific angles throughout the jaw, we can provide enough support for a full denture that stays in place without the need for adhesive. In fact, implant dentures address many common complaints of regular dentures. For example, they make chewing significantly easier and more comfortable.
Learn More About Implant Dentures
Understanding the Cost of Dental Implants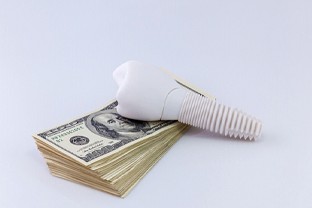 Dental implants are associated with a hefty price tag, but they are more affordable than you might think. Several factors contribute to the cost of dental implants in Peabody, but Dr. Saati strives to keep them within your budget. He has the solutions you need to replace your missing teeth with the next best thing to your own.
Preliminary Treatments & Dental Implant Surgery
There is no flat rate for dental implants because every case is unique. Replacing a tooth involves various steps, with each phase having separate costs. This can make it easier to budget for your new smile because you won't have to pay a lump sum. After examining your mouth, your implant dentist in Peabody will create a personalized treatment plan, which may include:
Preparatory Procedures: It's not unusual to need a little prep work, like tooth extractions, gum disease therapy, or bone grafting.
Placement Surgery: Sedation or anesthesia will be used to keep you comfortable while your posts are surgically placed into your jaw.
Type of Restoration: Depending on the number of teeth you're treating, you'll need a crown, bridge, or denture.
The Parts of Your Dental Implant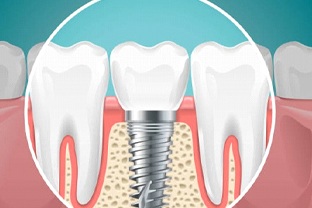 The complexity of your case and the materials you choose will also affect the amount you will pay. Discounted materials may cost less, but they can be low-quality. It's better to focus on quality when choosing materials for the:
Implant Post: An implant post is placed into the jawbone to replicate a root.
Abutment: Each post will need an abutment to secure your restoration to the implant.
Restoration: Your Restoration will be carefully crafted to mimic your natural teeth.
A member of our team will review your estimate and explain the fees, so you'll know exactly what you'll have to pay before committing to anything.
How Dental Implants Can Save You Money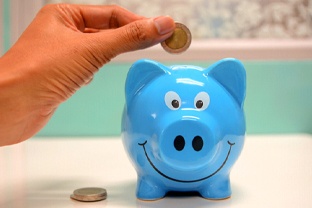 Dental implants in Peabody may cost more initially, but they are the most affordable long-term because they are proven to last for decades with the right maintenance. You'll never have to budget for replacements, and dental implants also reduce your oral health expenses by keeping your jawbone strong. Dental implants are a wise investment for your smile and quality of life.
Does My Dental Insurance Cover Dental Implants?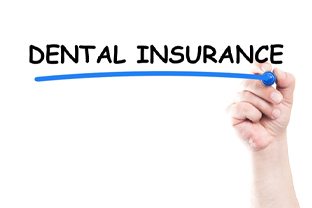 It's unlikely your dental insurance will pay the entire amount, but you can use your coverage to lower the cost of certain steps in your plan, like diagnostic imaging, preliminary treatments, or the restoration. We will work on your behalf with your dental insurance to maximize your benefits to offset the overall cost.
Making Dental Implants Affordable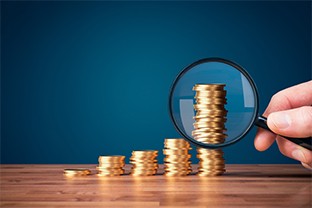 Besides using your dental insurance, our office accepts multiple payment options to keep your new smile affordable, including:
Traditional Payments: We accept cash, checks, and credit cards.
Monthly Payments: Pay any out-of-pocket expenses using a monthly payment plan with little or no interest through CareCredit.
If you have any questions about your payment options, or you're ready to rebuild your smile, contact our office today to speak with a member of our team.
Dental Implant FAQs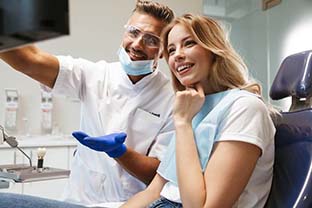 Dental implants in Peabody are an excellent choice to treat tooth loss. No matter if you're missing one tooth, multiple teeth, or an entire arch, you can enjoy a close replica of your natural smile. Although you're excited to fill the empty spaces, we know you have several questions. We'll explain the process and address your concerns during your initial consultation to ease any apprehensions. While you wait, here are the answers to a few of the most common questions we hear to help you make the best choice for your smile.
How Are Dental Implants Different from Other Options?
Traditional dental prosthetics only replace the portions of the teeth visible above the gum line. While this restores a complete and functional smile, there are still several disadvantages, like bone loss and a limited biting force. Dental implants resolve the common complaints of traditional treatments because they recreate the entire structure of the tooth, including the root.
A titanium implant post is surgically placed into the jawbone to act as a new root. An abutment is connected to the post to attach your custom-made restoration. With the post replacing the root, you'll enjoy a variety of benefits not possible with traditional treatments, like a stronger jawbone.
Does Getting Dental Implants Hurt?
You'll need oral surgery to insert the post into your jawbone, so it's normal to be worried about any pain. There's nothing to fear because sedation or anesthesia are used during your placement surgery to ensure your comfort. You might experience some tenderness and swelling while you heal, but you can manage it with an over-the-counter pain reliever and cold compresses. After your mouth has fully healed, you shouldn't have any pain. If you develop discomfort, it's essential you call our office right away to address the cause of the problem.
Can Dental Implants Fail?
Dental implants are the most reliable solution to treat tooth loss. In fact, they are proven to last for decades with the right aftercare. Unfortunately, dental implants can fail, but it is rare. The risk of implant failure is less than 5%. You can ensure your new smile thrives by maintaining your oral hygiene at home and visiting your dentist at least twice a year for a cleaning and checkup. If you develop any concerning symptoms, like pain, redness, or the implant feeling loose, don't wait to contact our office. Prompt treatment can prevent dental implant failure.
Can I Use My Dental Insurance to Pay for Dental Implants?
Many dental insurance companies will cover a portion of the cost, but you'll need to review your individual policy. After paying your premiums and your deductible, your benefits can be used to lower the cost of certain steps in your treatment until you reach your annual limit, like the restorations. We'll work on your behalf with your insurance company to maximize your policy to reduce the amount you need to pay out-of-pocket. We offer several payment options for any remaining balance, like CareCredit. We will help you find the solutions you need to keep your new smile affordable.
Maintaining & Caring for Your Dental Implants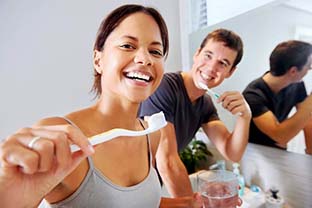 One of the reasons why dental implants are becoming an increasingly popular way to replace missing teeth is their remarkable potential for longevity. In fact, they could even provide a lifetime of unparalleled stability and aesthetics. However, this is only true if you take proper care of them. On this page, you'll find three easy tips that can help your dental implants in Peabody last for years, possibly even decades, to come.
Make Oral Hygiene a Priority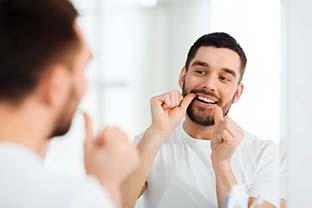 Without a dedicated oral hygiene routine, bacteria could infiltrate the gum tissue supporting your dental implants and lead to painful complications, including implant failure. Here are some tips to keep your mouth clean and minimize the risk of infection:
Brush your natural teeth as well as your implant-supported restorations twice a day for two minutes at a time.
Floss at least once daily. If you have an implant bridge, you may want to invest in a water flosser or floss threader to thoroughly clean the area between your gums and your restoration.
Rinse with an antibacterial mouthwash to remove food debris and bacteria from hard-to-reach parts of your mouth. Dr. Saati would be more than happy to recommend a certain product based on your specific needs.
Drink plenty of water. If you're dehydrated, you won't produce enough saliva to wash away bacteria that could otherwise damage your teeth, gums, or implants.
Protect Your Dental Implants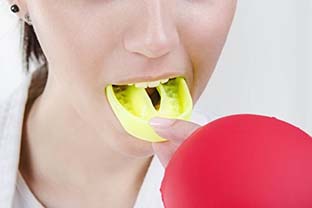 Physical trauma or injury could break, loosen, or even knock out your implants as well as your remaining natural teeth. To prevent this, make sure to:
Wear a mouthguard if you play sports. Even if you don't engage in a "high-contact" sport, it helps to wear one of these custom-made trays to protect your pearly whites from injury due to impact.
Wear a nightguard if you have bruxism (nighttime teeth grinding). Frequent pressure from teeth grinding can place undue stress on your implants, wearing down or even chipping your restorations.
Be aware of your surroundings. Carelessly slipping and falling could spell disaster for your oral health.
Schedule Regular Recall Visits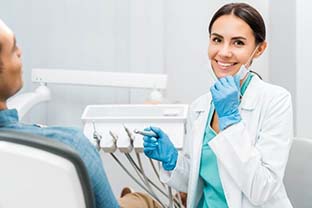 Even if all of your natural teeth have been replaced with dental implants, it's still imperative that you see your dentist in Peabody at least twice a year for a checkup and cleaning. At these appointments, Dr. Spiro Saati will be able to evaluate your implants. If he notices any signs of damage or infection, he can address them early enough that treatment should still be relatively easy and inexpensive. Depending on the specific nature of your restoration, we might be able to temporarily detach it from your implant so we can give your mouth a very thorough clean.
If you have further questions when it comes to dental implant aftercare, just give us a call. Our team would be more than happy to help you maintain your new teeth for decades to come.