Dentures – Peabody, MA
Restoring Smiles Effectively & Comfortably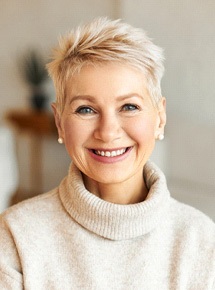 Tooth loss is prevalent throughout the United States, so you aren't the only one if you've lost some or all of your pearly whites. You may also be aware of the challenges of missing teeth, such as difficulty eating, speaking, and smiling confidently. Fortunately, Dr. Spiro Saati can easily renew your full grin with dentures in Peabody! These prosthetics are specifically tailored to match your natural smile and can help you regain certain oral abilities that you've lost over time. Keep reading to learn more or call us today to schedule your appointment.
Why Choose Dr. Spiro Saati DMD for Dentures?
Durable & Lifelike Restoration Results
Completely Personalized Dental Treatment
Cost-Effective Method for Renewing Smiles
Who Is a Good Candidate for Dentures?
People who are missing any number of teeth can be eligible for receiving dentures in Peabody. That said, you'll need to have great oral health before undergoing the process, as we wouldn't want any underlying or developing issues from interfering with it, such as gingivitis or an infection. During your initial consultation, our team will assess the condition of your mouth and address any problems we might detect before going forward with your treatment plan. If you need any preliminary procedures, we can provide them to ensure you're healthy enough to wear dentures.
Types of Dentures
Dentures are incredibly versatile and can be tailored to address your specific dental needs. After looking over your oral health, our team can walk you through your options on how to restore your bite. There are generally three kinds of dentures to consider, including:
Partial Dentures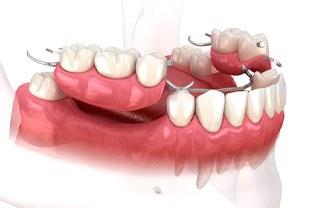 These prosthetics can help patients who've lost teeth while retaining some of their natural ones. They consist of a gum-colored base and artificial pearly whites that are supported via metal clasps that wrap around adjacent teeth. This allows them to stay secure and effectively restore a functioning bite.
Full Dentures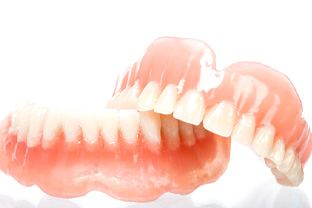 If you're missing an entire arch of teeth, then full dentures are the ideal solution. Similar to partials, their base will blend with your gum line. However, they'll rely on natural suction instead of any neighboring teeth to stay in position. You may require some denture adhesive to help keep them in place, but you'll be able to enjoy a lifelike smile and incredible bite.
Implant Dentures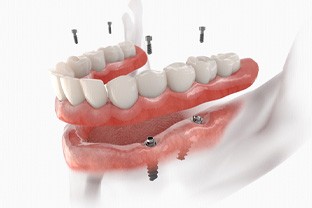 Instead of metal clasps or natural suction, implant dentures will be attached to your mouth via dental implants embedded in your jawbone. Once osseointegration is completed, you can expect to have superior stability for your artificial teeth. Not only does this option give you 80% or more of your natural chewing power, but your results can last several decades to a lifetime with proper care!
The Benefits of Dentures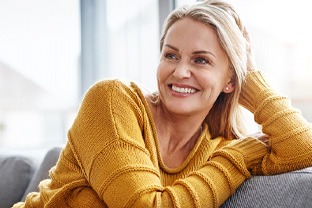 As one of the most reliable and convenient methods of replacing missing teeth, dentures continue to be one of the most sought-after treatments for patients. You'll be sure to enjoy numerous advantages with your results, such as: