Implant Dentures – Peabody, MA
A Comprehensive Solution for Restoring Your Smile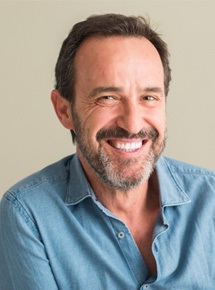 Did you know that about one in six American adults over age 65 are missing most or all of their natural teeth? If you're struggling with tooth loss, then you understand the dramatic effect this can have on a person's quality of life, such as eating comfortably, speaking clearly, and smiling confidently. Even if you have traditional removable dentures, you might experience a few drawbacks during your daily activities, like your restoration shifting out of place. Fortunately, Dr. Spiro Saati can effectively restore one or both of your arches of teeth with implant dentures in Peabody! Read along to learn more about this restorative solution or give us a call to schedule your initial consultation.
Why Choose Spiro Saati, DMD for Implant Dentures?
Professional Dentist With Years of Experience in Periodontology
Completely Personalized Implant Treatment Completed in One Location
Expert, Dedicated & Caring Dental Staff
What Are Implant Dentures?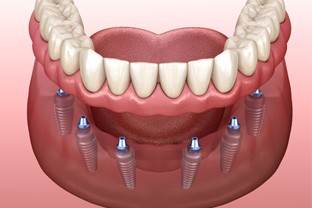 Implant dentures are carefully constructed from high-quality materials that match the strength and appearance of natural teeth. Like traditional dentures, this restoration solution involves a gum-colored base with custom-crafted prosthetic teeth that are designed to restore an entire arch. However, instead of resting atop your gums, your dentures will be directly anchored via implants embedded into your jawbone. This will provide you with a stronger, healthier, and more natural-looking smile compared to other dentures. Our team will recommend one of the following options based on your unique dental needs and/or preferences:
Fixed/Permanent Implant Dentures
After being attached to the 4-6 placed dental implants in your jawbone, a fixed/permanent denture will remain securely in position. You'll be able to wear this restoration every day without having to worry about removing them for cleaning or soaking. The only one who can remove it is Dr. Saati. For this denture to work, it'll require you to have a healthy and strong jawbone.
Removable Implant Dentures
You might also opt for removable implant dentures (or overdentures), which can be snapped on or off of your implants whenever you want. Though you'll have to remove this denture occasionally for regular care, you can still enjoy the benefits of dental implants once you fit them back on. Patients who have weaker jawbones can benefit the most from this type of implant denture. Even those who previously wore traditional ones can potentially get them retrofitted as removable implant dentures.
The Implant Process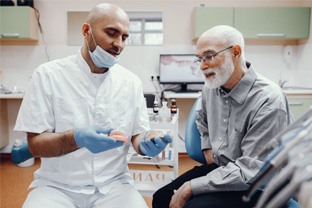 Implant dentures involve a more extensive treatment process compared to traditional ones. You'll first discuss your oral health and smile goals with Dr. Saati during your initial consultation. Once it's determined that this option is good for you, we'll then provide you with any preliminary procedures that you may require, such as bone grafting or gum disease therapy. After any underlying issues have been addressed, we can develop a detailed treatment plan which includes the number, location, and kind of dental implants, a price estimate, and a timeline of the process.
D r. Saati will embed the appropriate number of dental implants into their pre-planned positions in your jawbone during your surgery. He'll then close the gums around them and your recovery process will begin. The implants should then integrate with your bone tissue, forming a solid foundation, over the next 3-6 months. After you're completely healed, you'll come back to our office to get your dentures fitted in place.
Am I a Candidate for Implant Dentures?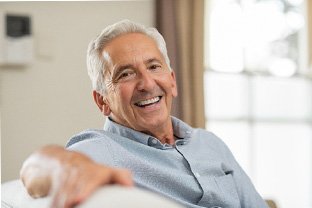 To be a good candidate for implant dentures, you'll usually require three things:
Good oral health – If oral issues like gum disease aren't treated beforehand, it can put your dental implants at risk of failure.
Excellent overall health – You'll need to be in good bodily condition to undergo minor oral surgery.
Sufficient jawbone density – If you're jawbone isn't dense or strong enough to contain your dental implants, it can prevent the metal posts from fusing with your bone tissue.
Feel free to consult our team if you aren't sure if you're eligible for this treatment. We'll be happy to offer a variety of treatment options to prepare you for dental implants.
Benefits of Combining Dentures & Dental Implants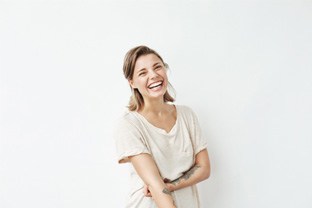 Implant dentures provide numerous essential benefits, including:
Easier daily dental care
Stronger biting power and chewing force
No slipping, popping, or shifting out of place when eating or talking
No gum irritation, gum soreness, or jaw stiffness
Preserves the jawbone and a more youthful facial shape