Peabody, MA General & Preventive Dentist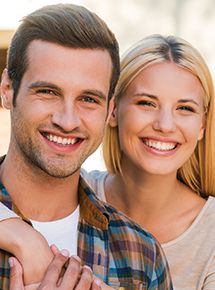 For decades, patients sought out dental care only in reaction to pain or damage leading to more invasive treatments, significant tooth loss for patients of advanced age, and other detrimental effects on oral health. That's why recent years have seen a shift away from seeking dental care after a problem already exists. Instead the American Dental Association and dental practitioners, recommend patients make a conscious effort to maintain their oral health through preventive care. If you and your family are in need of a welcoming general and preventive dental practice in Peabody, MA, we invite you to contact Spiro Saati, DMD and his team to schedule an appointment today.
Checkups & Cleanings
The foundation of any preventive dental plan is attending regular dental checkups and professional teeth cleanings. During these twice a year appointments, our dentist and team have the opportunity to examine your smile, assess any potential areas for concern, answer your questions, and make recommendations for further treatments or changes in at-home hygiene. We encourage patients to think of six-month checkups as our opportunity to continually build better oral health, so they can maintain a healthy, natural smile for life. Each appointment has four main components:
Diagnostics – we capture digital x-rays and photos of patients' smiles that allow us to get a clear picture of the current state of the teeth, gums, jaw, and other supportive structures. We are able to zoom in, color code, and otherwise enhance any of these images in order to assist patients in fully understanding their areas for concern and treatment recommendations.
Screenings – during every visit our team members all look for signs of the most common oral health concerns including tooth decay, gum disease, bruxism (teeth grinding and clenching), temporomandibular joint (TMJ) dysfunction, and oral cancer.
Cleanings – professional teeth cleanings allow our skilled hygienists to carefully remove plaque and tartar buildup from even the most difficult to access parts of patients' smiles. Our knowledgeable hygienists can also answer your questions and provide guidance for improving at-home hygiene.
Consultations – possibly the most important part of any dental checkup is the face to face consultation with the dentist. This conversation allows patients the opportunity to ask any questions they may have and become active participants in their treatment planning.
Dental Sealants
One of the easiest ways kids and adults alike can protect their smiles is to place dental sealants during any regular checkup. Traditionally recommended for younger patients, dental sealants have become increasingly popular with adult patients who regularly experience tooth decay or who have deep pits in the tooth enamel making it difficult to thoroughly remove decay-causing bacteria. The process is simple. A thin coat of resin is painted over the teeth and hardened into place with a curing light. The entire process can be completed in as little as ten minutes depending on the number of teeth to be treated and sealants last up to ten years with proper care.
Mouthguards/Sportsguards
No one runs out on the football field without their helmet or shoulder pads, but we still see many athletes (both young and old) who continue to take part in athletic events without protecting their smiles. If you or one of your loved ones participate in any sport where your face may come in contact with other players, hard surfaces, or athletic equipment, contact our team today. We provide patients with custom crafted sportsguards that fit to their unique smile allowing for maximum comfort.
TMJ & Bruxism Therapy
Temporomandibular joint dysfunction (TMJ/TMD) and bruxism have a number of causes, but in many cases they are related. Bruxism is the unconscious grinding and clenching of teeth which typically occurs during sleep. While teeth grinding and clenching may seem like an annoying but harmless habit, bruxism actually causes quite a bit of damage to oral and overall health including broken or worn teeth, morning headaches, earaches, hearing loss, and TMJ dysfunction. It's difficult to break a habit that occurs during sleep, but luckily, there is a simple treatment option – nightguards. Custom crafted, these occlusal guards place a protective barrier between teeth and allow the mouth to rest in a comfortable position throughout the night limiting the grinding and clenching motion protecting the TMJ from strain or stress.
Oral Cancer Screenings
Oral cancer effects thousands of adults in the US annually, and claims one life each hour on average. Many patients believe that oral cancer only effects smokers and other tobacco product users, but as much as 30% of patients diagnosed with oral cancer don't use tobacco products. What's more, non-tobacco users are more likely to be diagnosed with oral cancer in the later stages as they are not at a high risk for the disease. That's why oral cancer screenings using VELscope laser technology are part of our preventive treatment plan for all patients.
Fluoride Treatment
Fluoride is one of the many contributing minerals in developing dental structures. Fluoride absorbed through tap water and foods we consume strengthens the hard, protective outer layer of tooth enamel as primary teeth and then adult teeth are formed below the gum line, but once teeth erupt, topical fluoride is necessary to keep teeth strong and protect enamel from destructive bacteria. For many adults, regular brushing with fluoridated toothpaste is enough to fortify the enamel, but for many kids who are just learning to brush and adults who are more prone to decay, topical fluoride treatments during regular checkups offer an added step in their dental armor strengthening teeth and keeping smiles whole and healthy.
Children's Dentistry
At every age and stage of dental development, unique dentistry services are needed to keep patients' smiles fully functional and beautiful. Kids especially have a unique set of dental care and behavioral needs. The family dentistry team at Spiro Saati, DMD have years of training and experience providing kids with effective treatment in a safe and relaxing environment. From the time the first tooth erupts into patients' smiles or before their first birthday, you should begin bringing them in to see us. These early visits are typically non-invasive and serve as an opportunity to ensure your child's dental structures are developing properly. After seeing your little one, we'll help you determine how often he or she should come back for checkups, but by the age of five, patients should visit our team two times each year to achieve and maintain the optimal level of health increasing their chances to retain natural smiles for life.
What Makes a Family Dentist Different?
As the name implies, a family dentist is a little different than traditional general dentists because they have dentistry services that meet the needs of the whole family. Some general dentists are happy to treat kids or senior patients, but they do not invest time in any continuing education or special training in these areas. In most cases, family dentists have some level of advanced training or experience working with patients at any age and stage of dental development.
Like a general dentist, a family dentist is focused on helping patients achieve and maintain their optimal level of oral health by creating personalized treatment plans to meet patients' goals and needs. The main goals are to prevent gum disease and eliminate dental decay keeping teeth whole and healthy. The American Dental Association (ADA) recommends these twice annual visits as the best way to reduce tooth loss and declining oral health.
Family dentists allow you to bring the whole family to the same trusted dental practice where they'll receive high quality dental care that grows with their developing smiles. No need to switch practices as your child gets older. We offer comprehensive dental care for patients of all ages in a warm, welcoming environment.