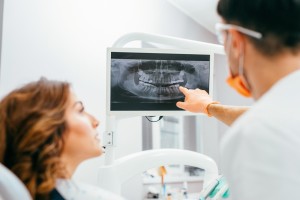 Most people wake up in the morning and start their day with their dental routine. Brushing and swishing minty mouthwash around their mouth—most of the time skipping flossing. All those times you should have been flossing is now leading to tender, swollen gums. You think back and ask yourself, "How long has it been since I visited my dentist in Peabody?" Even when patients practice exceptional dental hygiene at home, visiting your dentist is still a critical part of maintaining a great smile. The office of Spiro Saati offers a wide variety of effective dental services. We're here to help you reach optimal oral health and maintain it. Here are 5 reasons why you should regularly have your dentist check your teeth and gums every 6 months.
1.     It's important to identify dental problems early on.
Early detection is key to curing any oral health problems. Not to mention, there are many cases in which dentists are preforming their normal mouth examinations and notice abnormalities that point to major general health problems. There are countless stories of dentists discovering patients either have or are at risk for diabetes just based off the condition of their gums. Recent studies have shown there is a direct correlation between poor oral health and heart disease/strokes as well. Maintaining healthy teeth and gums can help keep your whole body in good shape!
2.         Beautiful teeth last a lifetime.
Not only does it feel refreshing to have your teeth professionally cleaned, but it's beneficial to your mouth. Professional cleanings remove plaque, hardened tartar, and harmful bacteria and debris that may have been missed when you normally brush and floss. Keeping your regular dental appointments will reduce your risk of developing severe dental problems in the future.
3.         It's important to get a professional opinion and stay motivated.
Visiting Dr. Saati gives you the opportunity to discuss any concerns you may have with a health professional. Were here to make sure your overall and oral health are in tip-top shape! We can show you the correct techniques to keep up your good oral health and motivate you to stay consistent.
4.         Use your insurance to cover your appointments.
Most dental insurance plans pay for two visits a year for free preventative care. That's right! You can receive dental are that your smile drastically needs for free. Why not use it? Utilizing your coverage will save you a lot of money in the long run. Check out our new patient page to review insurance and financing information.
5.         Custom dental treatment plans are important.
Whenever your oral health is at risk, you need to have a dentist that understands every case is different. That's why Dr. Saati believes in creating customized dental treatment plans for each of his patients. When you come to visit your Peabody dentist, we can discuss your personalized treatment plan with you.
Contact the Office of Spiro Saati Today!
Visiting your dentist saves you time, money, and ultimately your health. Each dental appointment at the office of Dr. Saati will leave you with much more confidence and less chances of developing a dental problem. Make visiting your dentist a habit starting today. Contact us to schedule the next available appointment.