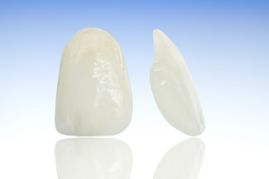 If you've been thinking about getting a "smile makeover," you've probably heard that porcelain veneers in Peabody are a great option. They're certainly a fantastic way to fix multiple smile imperfections at once, including chips, cracks, stains, gaps and misshapen teeth! But you might not know that the advantages of porcelain veneers don't stop there. In this blog, you'll find out why porcelain is such a great material for veneers and how you can care for your new smile so that it looks great for as long as possible!
Why Is Porcelain Such a Great Material For Veneers?
Veneers are wafer-thin shells that are permanently adhered to the front of the teeth to give them a whole new appearance. They can be made from different materials, such as porcelain or composite resin, but porcelain is widely regarded as the superior choice because it offers these important advantages:
Strength – Although nothing is quite as strong as your own teeth, porcelain is very durable and will stand up to wear-and-tear longer than other materials.
Stain-resistant – Natural teeth pick up stain because they're porous. But porcelain has a shiny, non-porous coating that makes it resist stain from things like coffee, tea and red wine.
Natural looking – Porcelain reflects light more like natural teeth do, so your final result will look very natural.
How Can You Maintain Your Porcelain Veneers?
Porcelain veneers offer outstanding strength and durability and can last 10-20 years with the right care and maintenance. Here are some simple steps you can take to protect your veneers from damage and avoid a possible emergency issue down the road:
Get regular dental care – It's important to see a dentist in Peabody regularly so they can catch any potential problems as early as possible (such as tooth decay around the margins of your veneers). You'll also have your veneers professionally polished at these visits.
Watch your diet and habits – Cut foods such as apples that are particularly hard or crunchy into smaller pieces instead of biting directly into them. Also, avoid chewing on anything like ice or hard candies that might chip your veneers.
Use the right products – You want to avoid anything that might scratch your veneers because it can dull them over time and cause them to pick up stains. Try not to avoid whitening toothpastes because they contain abrasive materials that are too harsh. Instead, choose a more gentle product such as a gel formula.
Like many things in life, the more you put into your smile, the more you'll get out of it. Porcelain veneers are a great investment that will last many years with the right care. And, with these tips, you'll be able to maximize all of their great benefits!
About the Author
Dr. Spiro Saati is a general, restorative and cosmetic dentist in Peabody with decades of experience and advanced training. Combining highly-skilled techniques with an artistic eye, he's able to provide his patients with outstanding cosmetic results. If you have any additional questions about porcelain veneers, he can be reached through his website or at (978) 531-2185.