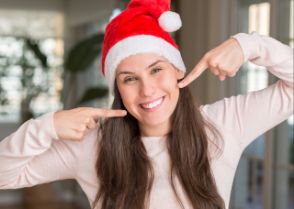 There's no better time than the holidays to show off a beautiful smile, but that's hard to do if you feel self-conscious about stained or discolored teeth! But with cosmetic dentistry in Peabody, you can get fantastic results faster than you would expect – just in time for the holidays. Keep reading to learn about the various types of discoloration, how whitening works, and what your options are for getting the best results possible!
What Kind of Stain Do You Have?
There are two main types of discoloration. First, there's surface-level staining from things like coffee, tea, red wine and tobacco. This is the most common kind and responds well to professional whitening treatments.
Second, there's a less common but more severe type of staining that occurs because of factors like genetics or taking the antibiotic tetracycline in childhood. This type of stain doesn't lighten very easily and may be best treated with porcelain veneers instead of whitening.
How Does Whitening Work?
There's a misconception that over-the-counter products like whitening toothpastes or mouthwashes whiten your teeth, but that isn't exactly true. They will remove surface stains to make your smile look cleaner and brighter, but they won't make yellow teeth whiter.
To do that, you must have your teeth whitened with an ingredient that will reach the deeper layers of the tooth, such as carbamide peroxide or hydrogen peroxide. While whitening strips from the store do contain these ingredients, the FDA limits their strength, so they can't give you the same results that professional treatments from a cosmetic dentist in Peabody can.
Professional treatments will make your teeth 6-10shades whiter. And, afterward, using a whitening toothpaste is a great way to maintainyour results as long as possible.
What Are Your Professional Whitening Options?
Although the best way to know which option is right for you is to schedule a consultation with a dentist, start by asking yourself how quickly you want your results. That's the main difference between these two choices:
In-Office Whitening – This procedure gives fast, dramatic results in about one hour, which makes it perfect for anyone who wants their results right away.
Take-Home Trays – This option is more gradual and requires wearing custom-made trays filled with a professional whitening gel for 30-60 minutes for about two weeks.
With one of these whitening treatments, you'll be giving yourself the holiday gift of a beautiful white smile that you'll love showing off!
About the Author
Dr. Spiro Saati has been practicing general, restorative and cosmetic dentistry in Peabody for many years and loves seeing the self-confidence his patients get from simple cosmetic procedures like whitening. If you'd like a brighter smile this holiday season and have any other questions, he can be contacted via his website or at (978) 531-2185.