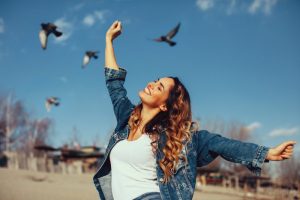 The sun's starting to heat everything up and you've begun dragging all your shorts and tank tops down from the attic. With the typical signs of summer starting to appear, you're trying to make yourself presentable because you know you'll be going out more often. You want to make great first impressions on all the new people you're going to meet, but you're self-conscious of your untidy smile. Cosmetic dentistry in Peabody may be the answer for you! Read on to learn 3 ways you can refresh your smile this summer and stop hiding your grin. 
After Teeth Whitening, The Sun's Not Going to Be the Brightest Thing on The Beach
Teeth whitening is one of the most popular and cost-effective ways to brighten your smile so you can make a great impression. You may be wondering why you should go into your cosmetic dentist when you can walk into a grocery store and choose from dozens of whitening products. When you get your teeth whitening done professionally, you won't have to wonder about the end result. Research has shown that over-the-counter solutions are largely ineffective and can even have a negative impact on your oral health.
Your dentist will professionally whiten your teeth in a single visit. During this in-office treatment, they will record the shade of your teeth and place a protective cover to keep the whitening solution from encountering your cheeks, lips, and tongue. Next, your dentist will place the solution on the surface of your teeth and let it work its magic. Once your desired shade of smile has been reached, you can head right over to the beach!
Make the Best First Impression with Porcelain Veneers
If your teeth are severely chipped, cracked, or stained, porcelain veneers are the best option for you. In just a couple of visits (depending on the severity of the damage), you can have your smile fixed. Veneers are ceramic shells that are bonded with your teeth to create a bright, even, straight smile.
The procedure is quick and painless and starts off with your dentist in Peabody preparing your teeth, so the shells fit perfectly over them. They'll take impressions of your teeth and send them to a lab to custom-craft your veneers. Once they've been made, you'll come back in for your second visit where your dentist will bond them to your teeth, creating a seamless summer-ready smile.
Cosmetic Bonding Can Give You A Dreamy Summer Smile
Cosmetic bonding can help repair chipped or damaged teeth. During the procedure, your dentist will apply a composite resin directly to your tooth. They'll shape it to resemble your natural teeth and cure it with a special light to bond it. This will leave you with a polished natural-looking beautiful smile. Cosmetic bonding can be completed in just a single visit and can last between 5 and 7 years.
Visiting your cosmetic dentist for a consultation can help determine what option is best for you. Your smile can have a lasting impact on the people you meet and is priceless. Being able to let it shine instead of hiding it behind pursed lips can be the confidence booster you need this summer!
About the Author
Dr. Spiro Saati is passionate about giving his patients smiles that they're proud of. As a member of the American Academy of Cosmetic Dentistry, American Dental Association, the Massachusetts Dental Society, and many more, he takes pride in providing everyone that walks through his doors with care they can trust. For any questions or to start the first step in getting a refreshed summer smile by scheduling an appointment, visit his website or contact 978-531-2185.