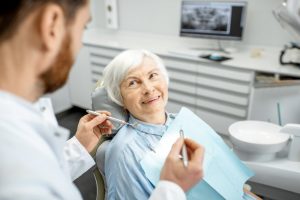 If you're suffering from tooth loss, you're not alone. Over 125 million people in America are missing at least a single tooth. Replacing them is vital in maintaining your oral health, and with so many different restorative options, it can be hard to decide. Dental implants in Peabody are one of the most advanced and best options you could choose. But you're probably wondering if they're the right solution for you. Read on for what makes a patient a good candidate for the procedure, and how to take the next step.
Most Patients Are Great Candidates
Whether you're looking to replace a single tooth or an entire arch, dental implants can do it all! If you already have dentures but are unhappy with them because they slip and shift, getting implants can provide you with a durable and stable alternative.
Typically, the best candidates for this procedure have maintained good oral health and have sufficient jawbone density so it can fuse with the implants. Even if your jawbone has deteriorated a bit, you can get a bone graft. Plus, getting implants can help prevent bone loss in the future. There are numerous additional factors that contribute to the success of dental implants, but it's best to schedule a consultation with your dentist in Peabody to discuss any limitations and your goals and desires.
Scheduling a Consultation
The first step on your journey to great oral health and a confidence boost is scheduling an evaluation with your dentist. They'll inspect your teeth, jaw, gums, and oral tissues as well as take an X-ray. This will allow them to be able to identify any bone loss and develop a precise and individualized treatment plan. Be sure to let your dentist know of any health problems that run in your family and whether you're taking any medications that could impact your immune system as well.
Risk Factors That Could Lead to More Complex Cases
Some risk factors that could contribute to implant failure may be out of your control, which is why it's so important to be evaluated by a professional before treatment. Here are some of the most common causes of failure:
Autoimmune diseases such as lupus, multiple sclerosis, type 1 diabetes, and celiac disease.
Poor blood supply that slows or stops your healing process.
Certain immune-suppressing medications.
Infections such as gum disease.
An allergic reaction.
Patients who grind and clench their teeth.
One factor that is commonly referenced is if patients are smokers. Even if you use tobacco, you could still be a candidate for the procedure. Just be sure to discuss the impacts and risk factor during your consultation, because smoking has been linked to implant failure.
Overall, dental implants boast a 95% success rate and drastically improve oral health. It's no surprise that the procedure is recommended by both professionals and patients alike. If you're considering getting dental implants, schedule a consultation with your dentist today!
About the Author
Dr. Spiro Saati has been serving his community of Peabody since his career first started! As an active member of several professional organizations such as the American Academy of Periodontology, the Northeast Society of Periodontology, and the Academy of Osseointegration, he keeps up to date with the latest dental implant advancements and technology so he can provide his patients with the best treatment. He understands how much of an impact missing teeth can have on a patient's daily life, which is why offers dental implants as well as a variety of other services. For questions or to schedule a consultation for implants, visit his website or contact 978-531-2185.