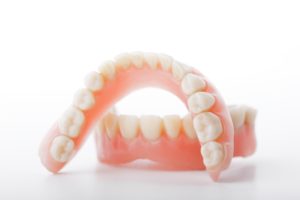 Dentures are a tried and true solution to treat tooth loss because they are convenient and affordable. For well over 100 years, they've helped patients regain a functional, beautiful smile after losing several or all their natural teeth. New innovations in dentistry allow them to closely look and feel natural. Unfortunately, your dentures won't last forever. Your dentist in Peabody will explain how often you will need to have new ones made.
How Often Do Dentures Need to Be Replaced?
On average, dentures last for about 5 to 8 years before needing to be replaced. Their longevity varies depending on several factors, such as how well you've cared for them over the years. Those that have suffered significant wear or deterioration will need to be replaced to restore a functional smile while also reducing the risk of oral injury. Not to mention, your mouth changes over time. As a result, your dentures may slip or cause irritation. No matter the reason, here are some obvious signs you may need new dentures:
Loose Fit: Often results from bone resorption as you age.
Tight Fit: Can cause pain from not wearing your dentures enough.
Broken Teeth or Components: The artificial teeth or acrylic components can break or chip over time.
Damaged Denture Base: The base can break or no longer be functional from daily wear and tear.
Dirty or Stained: Old dentures can become stained or have a foul odor.
New Tooth Loss: If you have a partial denture and lost another tooth, you'll need a new denture to accommodate the change.
Is There a More Permanent Solution?
As an alternative to a traditional denture, many patients are turning to implant-retained prosthetics. An average of 4 to 8 implant posts can anchor your denture to your jawbone. This allows you to enjoy the next best thing to your real teeth. In fact, you can regain as much as 70% of your biting force, so you'll never need to worry about any slipping or irritation again.
Although implant-retained dentures may cost more upfront, they are actually more affordable down the road. They have over a 95% success rate to last for several years, so you'll never need to worry about having your dental implants replaced. Your jawbone fuses to the posts, which can remain in place forever with the right care, like maintaining your oral hygiene.
Your denture will experience daily wear and tear, so it will need to be adjusted every few years; however, it is still more economical long-term.
Dentist Near Me for Dentures
You don't need to live with an ill-fitting or damaged denture. You can restore a comfortable, functional smile with the right denture!
About Dr. Spiro Saati
Dr. Spiro Saati provides personalized solutions for all patients, even those who have advanced issues like tooth loss. He combines the latest techniques with aesthetics to create healthy, beautiful smiles. Whether you need new dentures or you're ready to invest in dental implants, contact our office today to schedule your consultation.