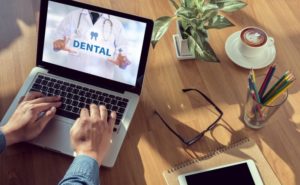 If you have dental insurance, you're at a much greater advantage than people who don't. You have a method of paying to keep your smile nice and healthy. The only negative thing about dental insurance is that it's only useful if it's utilized. Unfortunately, many people don't use it to the full extent and end up losing benefits they've already paid for. With 2020 just a couple of months away, it's important to get in another appointment with your dentist in Peabody. You'll learn why if you continue reading below.
Why It's Great to Have Dental Insurance
Having dental insurance is a privilege that not everybody has. It gives you access to two preventive checkups and cleanings a year, and these appointments are usually covered fully. At these checkups, you'll get a thorough oral examination from your dentist, as well as a professional cleaning.
These visits are a crucial part in maintaining excellent oral health because they allow your dentist to catch health issues in your teeth and gums early in their development. They can then be treated much more easily than if you were to wait until they started causing problems to see your dentist. Not only does visiting your dentist boost your oral health, but it can also save you money.
Don't Let Your Coverage Go to Waste
Here's a not-so-fun fact: the average person with dental insurance only receives about $323 of dental care per year. Since the typical annual maximum for dental insurance is around $1,000, that means they lose at least $600 of potential benefits every year. The good news is that there's one simple way to counteract this: make seeing your dentist a priority.
Why It's Crucial to Visit Your Dentist Now
For most dental insurance policies, your benefits reset at the beginning of every calendar year. No matter how many leftover benefits you have at the end of 2019, they will NOT roll over into 2020. This means that if you have any dental work you need to get taken care of, like a filling or crown, now is the perfect time to do so.
By visiting your dentist twice a year, you're not only keeping your mouth healthy, but contributing to your overall wellness too. Staying on top of your dental health can prevent issues like these from arising:
Stroke
Heart disease
Diabetes
Hypertension
Pancreatic cancer
If you haven't gotten your second checkup this year, or if you have some unfinished dental work, now is the perfect time to pay a visit to your dentist in Peabody. You'll likely pay next to nothing out-of-pocket for it!
About the Author
Dr. Spiro Saati obtained his Doctor of Dental Medicine degree from the Boston University Goldman School of Dental Medicine. For his entire career, he has been serving the community of Peabody, MA. The expert team at his practice is more than happy to file claims for all insurance providers so you don't have to lift a finger! To learn more, or to schedule your checkup with Dr. Saati, you can contact him at (978) 531-2185.