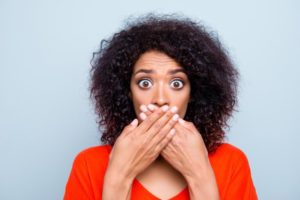 You've had a pretty good week, so you decided to treat yourself. You bought some gummy fruit snacks and now you're sitting down in front of the TV to enjoy the weekend. Everything is going great until you suddenly feel something strange in your mouth. You poke around your mouth with your tongue and find that your crown has come loose! What should you do? Read this guide on how to deal with loose dental crowns in Peabody.
What Are Dental Crowns?
Dental crowns are tooth-shaped caps that are placed over teeth to repair their function. Most often, they are used to cover teeth that have been decayed or damaged beyond what a simple filling can restore. They may also be used for cosmetic purposes, such as covering a stained or chipped tooth that doesn't necessarily need structural repair. Crowns are held in place with special dental glue, and should normally last 10-15 years with proper care.
Why Crowns Loosen
There are many reasons why a crown might come loose, such as:
Tooth decay: Although crowns themselves are not prone to decay, the underlying tooth certainly is, especially if you don't brush and floss every day. Cavities around the gumline can loosen the crown.
Hard foods: Try and avoid biting into hard foods directly with a crowned tooth. Continuing to apply pressure to a crown can cause it to come loose or even crack over time.
Sticky foods: Sticky items like caramel and gummy candy can become stuck to the crown's surface, dislodging it from the tooth. Much like with hard foods, avoid chewing sticky foods with a crowned tooth.
Time: After several years of withstanding biting force, even the most durable crown will start to wear down. The bonding agent of the crown starts to become weak, making the crown more likely to loosen and eventually come off.
How to Handle a Loose Crown
First things first, contact your dentist as soon as your crown becomes loose or falls off. The underlying tooth can become more vulnerable to decay and sensitivity without the crown to protect it, so you'll want to get it back on as soon as possible. Depending on your situation, it might even qualify as a dental emergency.
If your crown has come loose but hasn't fallen off yet, don't play with your crown. Also, chew on the opposite side of your mouth until you can see your dentist.
If your crown has come off and you can't see your dentist for a few days, you can coat the inside of the crown with dental cement and place it back on. Keep in mind that this is only a temporary solution, and you should still see your dentist for a more permanent reattachment.
About the Author
Dr. Spiro Saati earned his Doctor of Dental Medicine degree from Boston University Goldman School of Dental Medicine. His professional memberships include the American Dental Association, the American Academy of Cosmetic Dentistry, and the Massachusetts Dental Society, among others. His practice offers dental crowns to repair your damaged teeth. If your crown has come loose or fallen out, don't hesitate to contact Dr. Saati at (978) 531-2185.