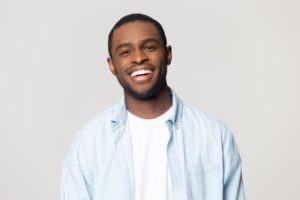 Baking soda is a common pantry staple with a variety of uses. You'll find this chemical compound in everything from baking recipes to household cleaning products. It's even in some whitening toothpastes. However, it can do a lot more for your oral health than keep your pearly whites bright! Your Peabody dentist explains how baking soda can keep your whole mouth healthy, and how you can add it into your daily dental care routine.
How Can Baking Soda Improve Oral Health?
Baking soda naturally raises the pH level in the mouth to make it less acidic. The less acidic an environment is, the more difficult it is for bacteria to thrive there, which can help treat:
Bad breath: A bad smell in your mouth is often the result of residue left behind by acidic foods. You can keep your breath fresh by using baking soda to rebalance the acid levels.
Mouth ulcers: Baking soda can soothe the irritation and discomfort of mouth sores and ulcers. Rinsing your mouth with water and baking soda can even speed up the healing process as well.
Tooth discoloration: Although baking soda can improve your whole mouth, you're likely to notice its effects first in the color of your smile. Its abrasive nature and chemical makeup can remove plaque and polish away stubborn stains on the surface of your teeth.
Gum disease: This common oral health issue is a bacterial infection in the gum tissue that's brought on by a buildup of plaque and tartar. If left untreated, it can lead to sensitivity, bleeding, and tooth loss. Baking soda discourages the accumulation of plaque, which can help prevent the infection from developing in the first place.
Adding Baking Soda to Your Dental Routine is Easy
There are a few ways you can incorporate baking soda into your daily dental routine:
Create a mouthwash that treats bad breath and mouth ulcers by dissolving half a teaspoon of baking soda into a glass of water.
Fight off bacteria and gum disease by dipping your dampened toothbrush into a small amount of baking soda before brushing.
Whiten your teeth by making a paste of baking soda and water. Then, apply it directly to your teeth, let it sit for two minutes, then scrub it away with your toothbrush or finger.
While baking soda shouldn't replace regularly using fluoridated toothpastes and mouthwashes, occasional use is an affordable and easy way to give your smile a healthy boost!
About the Author
For over 25 years, Dr. Spiro Saati has helped the smiles of Peabody, MA stay happy and healthy with excellent preventive care and personalized treatments. He encourages all his patients to get a dental checkup twice a year in order to spot and stop any dental problems as early as possible. However, if you find yourself with gum disease, discolored teeth, or any other oral health issue, he can help restore your oral health with services like professional teeth whitening, periodontal disease therapy, and the latest dental technology. For more tips about taking care of your smile at home, feel free to contact him via his website or at (978) 531-2185.