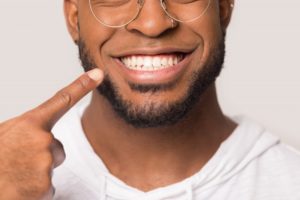 If you ask most dentists about the best way to replace missing teeth, the vast majority of them will say dental implants. Because implants recreate the entire tooth structure, including the root, they are more stable, durable, and natural-feeling than any other solution. However, when the various health advantages of dental implants come up, you may be wondering, "That's great and all, but how do they look?" Here are four of the main cosmetic benefits of dental implants in Peabody.
1. Preservation of Your Natural Face Shape
After a tooth is lost, the part of the jawbone that it once supported starts to lose its mass and volume. Over time, the jawbone can no longer adequately support your facial structure, leading to a sunken or wrinkled appearance. This is particularly true if you are missing several teeth or it has been years since you lost them.
Dental implants are the only tooth loss solution that acts as a replacement root for a missing tooth. They give your jawbone all of the stimulation it needs to remain healthy and strong, preserving your face's youthful appearance.
2. Realistic-Looking Replacement Teeth
Dental implants themselves are typically dark in color due to their being made from titanium. However, once placed, this portion of the implant is hidden beneath the gums. The restoration that is placed on top – which can be a crown, bridge, or denture – looks completely natural. Your cosmetic dentist in Peabody will design these replacement teeth to perfectly blend in with your remaining teeth as well as your facial characteristics. No one should be able to tell that your teeth aren't natural!
3. Results That Can Last a Lifetime
Because dental implants integrate with your jawbone, they have the ability to last for decades. They can last several times longer than traditional bridges or dentures, which must be replaced every five to ten years on average. In fact, many dental implant patients go on to keep their implants for the rest of their lives.
4. Teeth That Stay in Place
Traditional dentures can look quite natural these days. Because they don't stimulate the jawbone like dental implants do, though, even the most well-made denture will eventually lose its fit due to jawbone deterioration. This makes them more likely to slip around or even fall out when eating, talking, or even just smiling. By contrast, dental implants are secured in the jaw, keeping your teeth anchored in place.
It's no secret that dental implants are the healthiest way to replace missing teeth. However, they're also the most aesthetically pleasing option. If you're interested in rebuilding your smile with teeth that look as natural as they feel, contact your implant dentist today!
About the Author
Dr. Spiro Saati obtained his Doctor of Dental Medicine degree at the Boston University Goldman School of Dental Medicine and has been serving patients in the Peabody, MA area ever since. He is an active member of multiple professional organizations, such as the American Academy of Periodontology, the American Academy of Cosmetic Dentistry, and the Academy of Osseointegration. Dr. Saati is able to conveniently place and restore dental implants in one location. To learn more about the cosmetic benefits of dental implants, visit his website or call (978) 531-2185.