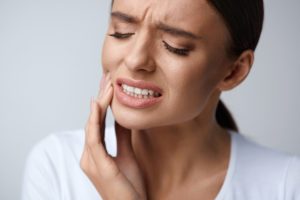 Over 500,000 people annually turn to dental implants to replace their missing teeth. With a nearly perfect success rate, they are the most reliable option to rebuild your smile. Although the risk of complications is rare, dental implant failure can occur. It's best to contact your dentist right away as soon as you recognize a problem. Here are 3 signs you need to see a dentist immediately to save your dental implants in Peabody.
1. Feeling Discomfort or Pain
It's normal to have some pain after your initial dental implant surgery; however, it will improve as you recover. After you've fully healed, you shouldn't have any discomfort. If you develop any pain after the healing process, it could indicate a problem, like an infection or damage to the implant post. Your dentist will identify the source of your discomfort to protect your investment from additional complications.
2. Swelling or Inflammation
Slight swelling is common after your placement surgery and abutment procedure, but it will resolve in a few days as your tissues heal. If inflammation reoccurs, you might have an infection. The biggest threat to the long-term success of dental implants is peri-implantitis, which is like gum disease. As a result, it can destroy the structures supporting your dental implants. If the infection is treated quickly, your dentist can help prevent your new smile from failing.
3. Loose or Wobbly Implant
Your jawbone will fuse to your post through a process called osseointegration. It will have the support of your jaw to stay firmly in place. If your dental implant feels loose or wobbly, it can be a sign of a big problem. In some cases, you may only need a new restoration, but in severe instances, your dental implant may need to be removed.
Preventing Dental Implant Failure
Although the risk of dental implant failure is less than 5%, it's best to be proactive to keep your new smile healthy. There are several things you can do to help ensure your dental implants last for decades, such as:
Use a soft-bristled toothbrush and nonabrasive toothpaste.
Clean your natural teeth and dental implants for at least 2 minutes in the morning and at night.
Use high-quality dental floss to clean between your teeth and around the implant posts nightly.
Treat bruxism with a nightguard.
Wear an athletic mouthguard if you play sports.
Don't use your teeth as tools or chew on inedible objects.
Visit your dentist at least twice a year for a cleaning and checkup.
Don't smoke or drink alcohol in excess.
If you develop an issue with your dental implant, don't ignore it. Contact your dentist right away to save your smile before it's too late.
About Dr. Spiro Saati
Dr. Saati earned his dental degree at the Boston University of Goldman School of Dental Medicine. He has completed advanced training in many specialties, like implant dentistry. He can treat the most complex cases of tooth loss. Contact our office today to see if dental implants are right for you.