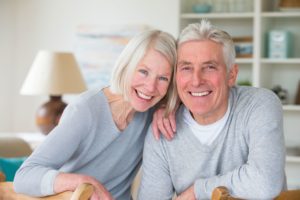 If you are missing one or more teeth, you have probably at least considered getting dental implants at some point to fill the gap in your smile. After all, implants are considered the gold standard for replacing missing teeth. They preserve your jawbone and facial muscles, they can last for decades, and they look and feel completely natural. But how did they get to be so beneficial? Let's take a brief look at the history of dental implants in Peabody.
The Earliest Dental Implants
Archeologists have found carved stones and seashell fragments embedded into the jaws of ancient Mayans. These instances of early implant use date back to 600 A.D. In some cases, these tooth replacements even seemed to be "fused" to the bone, just like modern dental implants!
The Invention of the Modern Dental Implant
In the 1950s, a Swedish orthopedic surgeon discovered that he couldn't remove the titanium optic chambers he had previously implanted in the leg bones of rabbits. From the discovery came the notion that titanium is the perfect material to use for tooth replacement. Not much time had passed before the term "osseointegration" was coined ("osseo" meaning "bone" and "integration" meaning "fusion"). Today, this process serves as the biological basis for the high success rates of dental implants.
Improvements in Osseointegration
In the past several decades, scientists have learned a lot about how the characteristics of a titanium post influence the speed at which it fuses with the jawbone. In the beginning, dental implants had a smooth surface. These days, however, we know that bone likes to grow against an implant with a rough surface. A roughened implant has more "surface area" than a smooth one, meaning more bone tissue is in contact with the implant. Essentially, this has sped up the average time of osseointegration from six months to about six weeks.
What Does This Mean for Someone Who Wants Dental Implants?
Basically, the "healing time" associated with dental implants is the time it takes for osseointegration to occur, which may still take several months, depending on the individual's ability to heal. During this fusion process, it's crucial that the implant not come into contact with anything that could cause it to move, as that could disturb osseointegration. It might only form a connection in the soft tissue, which makes it loose and could result in infection. For this reason, dental implants patients usually must wait until osseointegration is complete before receiving their artificial teeth.
However, this wait is more than worth it to create a strong foundation for a sturdy smile that can last a lifetime. If you're suffering through tooth loss, talk to your dentist to see if dental implants in Peabody are the right solution for you!
About the Author
Dr. Spiro Saati has been meeting the dental needs of the Peabody, MA community ever since he graduated from Boston University's Goldman School of Dental Medicine. As a member of the Academy of Osseointegration, he is more than qualified to place and restore dental implants all under one roof. If you are missing teeth and would like to get them replaced with a smile that will last, visit Dr. Saati's website.